Happy Monday! I think m
miscellany monday
is the perfect place to share this post, so read and then head over to
lowercase letters
to check out some other random-type posts.
God has a list...ok, it's probably a long list... of things He's working on with me. Now that I think about it, He's probably thinking "Ok, Jess, when are you just going to trust me?" Do you have a few things on your list? Just do the thing. Beth Moore said this during a conference and it keeps coming back to my mind. Just do the thing God's asking you to do. No matter what it is.

Just do the thing.
Letting go. That's one of them. This refers to many areas of my life. I'm a schedule person. I love to have things scheduled out and know what's happening when and for how long. Are you like that? But God wants me to let go a little bit a lot.

I'm a bit on the shy side. It's not TOO bad, but I do feel uncomfortable in new situations and words don't seem to come out the way I want them to. I'm working on it. I need to let go and relax. Being a stay-at-home mom makes this more challenging. Sometimes your adult interaction is very limited and I seem to 'forget' how to interact with others.
A few weeks ago, the kids came with us into our church service for a couple of special songs. We were all sitting behind a great couple that we are getting to know. I so enjoy this couple. They were singing with their kids and at one point they raised their hands and closed their eyes while they were singing praises to the Lord together.
Like I said, we were right behind them. Now, we sing out every song and really enjoy it, but lately when I sing, I feel God saying

"Let go and TOTALLY enjoy it".

He doesn't want us to worry about what we look like or what others will think.
When Kayla and Noah saw the family in front of us, Noah did the same thing. Then Kayla followed her little brother's lead.

For the rest of the song, theyraised their sweet little hands up as high as they could, closed their eyes, and sang out to the Lord in their sweetest voices

. I would give anything to have a picture of that, but I didn't have my camera. So I thought about it.
That's what I want. At some point we become so self-conscious that we worry too much about what others think. Kids don't care. They'll come out in the craziest clothes. They'll dance to their own song and not worry about not doing it right. Don't you want that back...the ability to just be totally free and not have a care in the world what someone next to you thinks. Maybe you have it and are wondering why it's so hard to just let go and feel that release. Maybe you're like me and you get nervous thinking about it.
Next time I feel like that, I'm going to try and just let it out.
God, help me to let go and feel everything You want me to feel. Help me just do the thing You've been telling me to do for so long. Help me let go and feel complete freedom in You.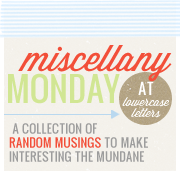 Write a comment! I'd love to hear your thoughts on this one! Maybe it will help us 'just do the thing' if we share what our 'thing' is. What do you think?